Aircraft Engravers
151 North Granby Rd.
Granby, CT 06035 USA
Phone: (860) 653-2780
Fax: (860) 653-7324
Email: info@engravers.net
© 1998, 2005, 2015 Aircraft Engravers All Rights Reserved. Contact Web Master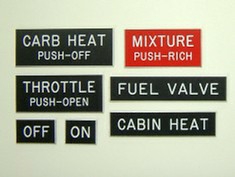 Just $0.75 a word for Matte material. Standard Placards are any placards that meet these requirements:
Text height .100" (1/10"), .125" (1/8") or .150" in capital letters.
Text spacing of additional lines is 66% of text height (2/3).
Text is center justified.
Length of placard is determined by longest line of text.
Placards are made with .020" or .032" thick matte finish material.
Edges are straight (standard) or chamfered (by request).
Choice of colors; Black placard/White text, White placard/Black text, Red placard/White text, White placard/Red text.
The placards have a double faced tape applied to the back surface for an easy peel and stick application.
View the example above to see what will be produced.
Simple, self adhesive placards without all the dimensioning that a custom placard requires and made at an economical cost. Anything more complex will be made as a custom placard.

AKA - Also Known As - A/C Placards, A/C C/B Panels, A/C Instrument panels, A/C Overlays, Aircraft Placards, Aircraft Circuit Breaker Panels, Aircraft Instrument panels, Aircraft Overlays,
Instrument Panel Overlays, Switch Panel Overlays