Aircraft Engravers
151 North Granby Rd.
Granby, CT 06035 USA
Phone: (860) 653-2780
Fax: (860) 653-7324
Email: info@engravers.net
© 1998, 2005, 2015 Aircraft Engravers All Rights Reserved. Contact Web Master
Custom Aircraft Placards, C/B Panels
&
Switch Overlays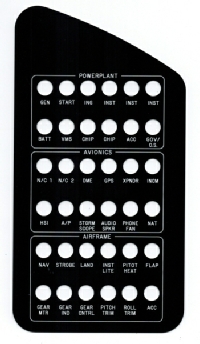 This is the place to have custom aircraft placards, circuit breaker and switch panels made to your specifications.
The choices are almost as endless as your imagination because Aircraft Engravers has a "Can do" attitude of "If you can draw it, we can engrave it". Offering a wide range of materials, colors and thicknesses plus our expertise in engraving to meet your needs.
All custom work will have to be quoted for the complexity of the job, material & delivery scheduling.
See the Drawing/Technical Information if you need more details of what Aircraft Engravers can do or if you need help in making a drawing. We have completed jobs that have been written on the back of business cards to million dollar CAD systems, so whatever you have we can work with it.
Email Aircraft Engravers at info@engravers.net if you have any questions or for a quote you can send in a picture or drawing of your project. Go to Material Choices to get detailed information to make valued decisions as to which material to choose for your project.

Galley of extra large images will be added here.

AKA - Also Known As - Custom A/C Placards, Custom A/C C/B Panels, Custom A/C Instrument panels, Custom A/C Overlays, Custom Aircraft Placards, Custom Aircraft Circuit Breaker Panels, Custom Aircraft Instrument panels, Custom Aircraft Overlays,
Instrument Panel Overlays, Switch Panel Overlays