Aircraft Engravers
151 North Granby Rd.
Granby, CT 06035 USA
Phone: (860) 653-2780
Fax: (860) 653-7324
Email: info@engravers.net
© 1998, 2005, 2015 Aircraft Engravers All Rights Reserved. Contact Webmaster

TKM MX385 Faceplate Inserts
Material - Made from .020" black with white text. All are backed with double faced tape for easy peel and stick installation.
NOTE: This item is NOT PMA'd and can NOT be installed in US Certified aircraft unless the proper FAA paperwork is completed. Contact your local avionics shop or AP for more information.

TKM MX385 Faceplate insert installation directions
Before you begin: Check to see if you received the proper faceplate insert. Are the numbers the same as your radio? Does it fit correctly? Although the holes and text will be the same, many faceplate manufacturers made different widths or heights of the same faceplate. (Just to make life a little more interesting)
This faceplate insert is

NOT PMA'd

and

CAN NOT

be installed in US Certified aircraft unless the proper FAA paperwork is completed. The FAA is very strict on using non-PMA'd parts in certified aircraft. Contact your local avionics shop or AP for these requirements.
Have this insert installed by an FAA certified avionics shop if the unit is to be installed in a US Certified aircraft, if you do not have all the proper tools, are not a qualified technician or your not sure you are capable of doing this job, seek expert advise.

If your faceplate doesn't need painting go to #9.
Remove the knobs and tape up the center glass areas, knob shafts and body of unit to protect them from all paint over spray Do not tape the inside recessed area where the lenses are as this has to be painted.
Fill any dents with a plastic auto body or a model builders filler.
Lightly sand with a fine grit sandpaper for good paint adhesion.
Paint the faceplate with a quality paint such as Krylon's® 1613 Semi-Flat Black paint.
Remove the protective tape and paper used in the painting process.
Remove the double face tape backing from the new inserts.
Place the new inserts onto the faceplate. Press firmly all around the new insert for good tape adhesion. Reinstall the knobs onto the radio.
Tell all your aircraft buddies about Aircraft Engravers and the great products we make.

Aircraft Engravers return policy.
We will give you a 100% refund of the purchase price minus any shipping charges for any faceplate that is returned to Aircraft Engravers. This is for any reason that you are dissatisfied or can't comply with any FAA rules or regulations.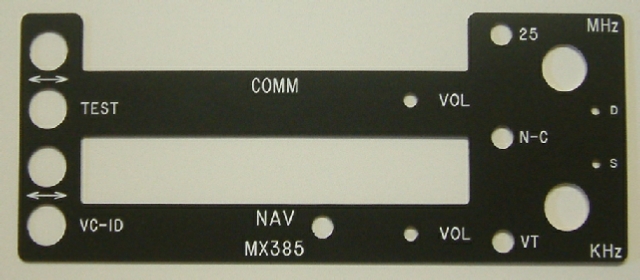 AKA - Also Known As - MX385, MX-385, MX 385, TKM Nav/Comm